Cedar Creek's Pixie (AB)
Cedar Creek's Pixie (AB)
Pixie
American Bulldog- Boul'am
Née le 19.12.99 - Born 12/19/99- RIP 09/09/10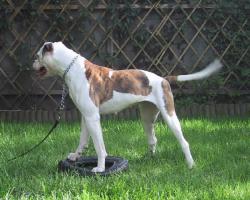 Taille/Size: 60 cm
Poids/Weight: 33kg
HD: C - ED: not done - Spondylosis @ 9 years old.
Pixie est un être à part... Elle vit dans un monde peuplé de balles, de biscuits et de lutins.
Good bye my angel! May you have fun in the doggy paradise!
Elle a pratiqué la recherche de personne, et le dog dancing. Elle adore encore donner sa patte, même quand on la lui demande pas. Pixie quoi...