Nijakowski's Pashmina
Nijakowski's Pashmina
Pashmina, 12 ans/ 12 years old
Née le 26.11.99 - Born 11/26/99 - RIP 12.08.12
Good bye my love!
Fille de Walz's Victor & Walz's Loucka, 100% Leavitt Bulldog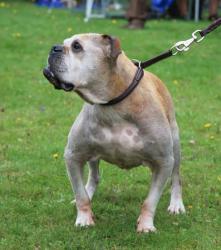 Taille/size: 43cm
Poids/weight: 20kg
HD: D - ED: positive to dysplasia
Issue de la première portée de OEB en Europe, Pashmina est le chef de la maison. C'est la reine mère! Douce avec les humains, elle sait se faire respecter de ses congénères. Elle a été chien de thérapie durant 7 ans et visitait des personnes atteintes de la maladie d'Alzheimer.
Elle a pratiqué l'obédience et le dog dancing, qu'elle pratique encore de temps en temps avec grand plaisir.
Out of the first litter of OEB in Europe, Pashmina is the boss in the house. She's called the Queen mother! Sweet and docile with people, she knows how to be respected by other dogs. She's been a Therapy dog for 7 years and was vitising elderly people suffering from Alzheimer disease.
She practiced obedience and dog dancing, and she still performs from time to time happily.
Quelques photos de sa jeunesse- some pictures when she was younger!
3 mois-month
Avec sa cousine- with her cousin, Leatherneck Haloa
A 2 ans- 2 years old